Pierce Elevated Park


Let's transform the Pierce Elevated into one of the most distinctive urban recreation parks in the United States
The Pierce Elevated will no longer be needed for highway purposes if TxDOT's
planned rebuild
of downtown freeways moves forward to construction, with construction slated to start after 2030. This provides a once-in-a-lifetime opportunity to transform the structure into one of the most distinctive urban recreation parks in the United States.
Paths for runners, walkers and bicyclists would be the main features of the park. Pavilions can be used for exercise classes, yoga or small gatherings.
The repurposed Pierce Elevated is ideal for
Paths for walking, running and bicycling, providing a round-trip up to 2.6 miles and connecting with trails along Buffalo Bayou.
Plazas with benches for viewing the downtown skyline
Dedicated areas for group activities, like excercise and yoga
Direct access to adjacent buildings, with restaurants, stores and apartments connecting directly into the park.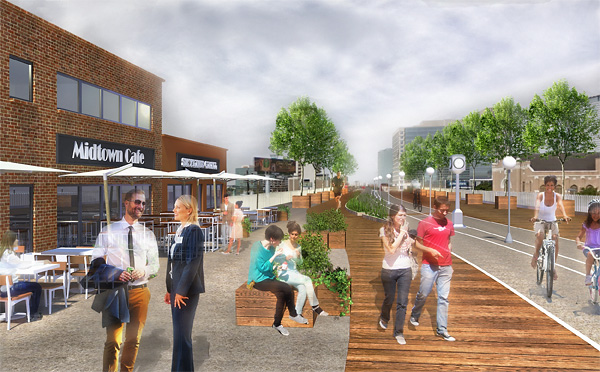 New development on the south side of the park can connect directly into the park.
This is such a great opportunity because
Create a recreation destination for central downtown
, which currently has few recreation options. This park will provide a walking and running area similar to Memorial Park and attract more people to live downtown.
Create one of the most distinctive urban parks in the USA,
with great views. No other city has a park like this. The similar but narrow elevated
High Line
park in New York City is one of the city's top attractions.
Has a low cost to build.
The structure already exists and just needs to be repurposed. Only access points, recreation routes and basic amenities need to be added. This could potentially be covered by private donors.
Preserving Houston's heritage and enhancing our image.
Freeways have been instrumental in Houston's growth, and repurposing a freeway for recreation will be a very "Houston" thing to do in the eyes of Houstonians and visitors.
Removal of the structure would leave a series of disconnected half-blocks.
A series of half-block vacant lots along Pierce Street would have minimal usefulness for any public purpose. An elevated recreation park will be far more beneficial to downtown.
Plazas and landscaping will create nice spots to view the skyline.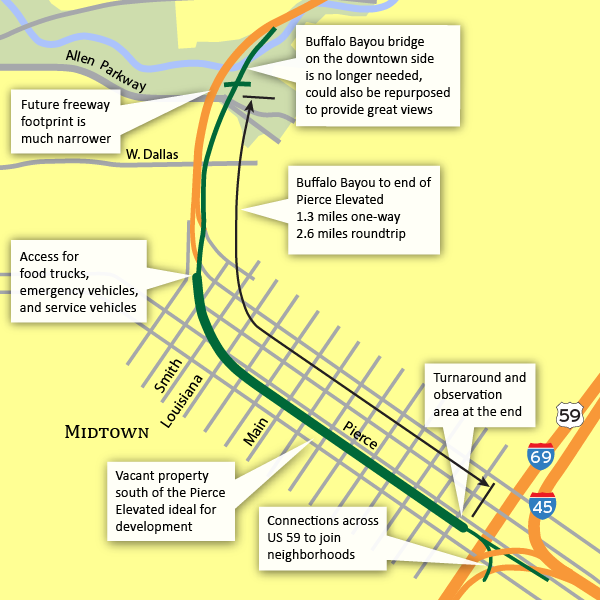 Pierce Sky Park
PierceSkyPark.com
is another site promoting the transformation of the Pierce Elevated into a signature park. They are also on
Facebook
.
The PierceSkyPark.com vision appears to be much more elaborate and expensive than the recreation-oriented park promoted here. Building a recreation-focused park will be less expensive and more practical to build, which means the chances of realizing the vision are much better and it could be done much faster. A recreation-oriented park would likely receive more visitors than an architecture-oriented park since downtown residents would visit a recreation-oriented park regularly.
List of potential park features
Walking and jogging path, 2.6-mile round-trip
Areas for group activities
Path for biking and roller-blading
Gardens
Pavilions for events
Shade canopies
Festival areas
Food truck zone
Areas for stages and small concerts
Children's play areas
Viewing points for the downtown skyline
Bars and restaurants on the park level in adjacent buildings
Direct access to new developments alongside the park.
Art and sculpture
Connections to existing trail systems on Buffalo Bayou
Connections across US 59/I-69 to the Third Ward neighborhood
&nbsp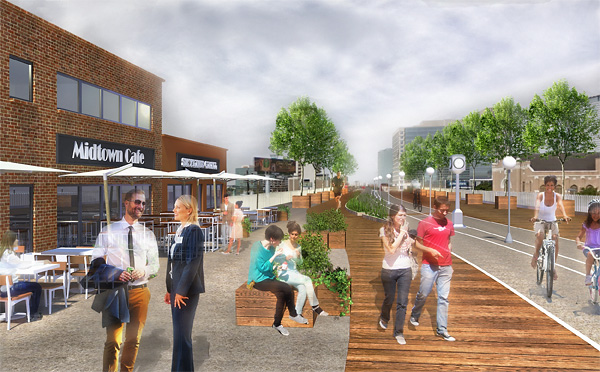 New development on the south side of the park can connect directly into the park.
Plazas and landscaping will create nice spots to view the skyline.